eMC | electronic Mobile Computers Range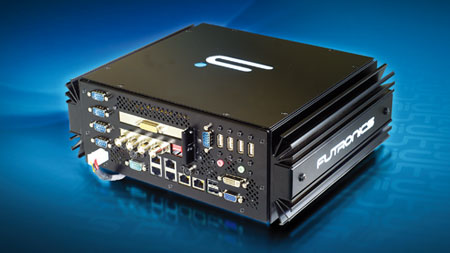 The Futronics eMC range of Mobile Data Terminals (MDT) brings the power and flexibility of advanced, solid state computing to the mobile environment. Designed and engineered to meet the toughest of requirements, the eMC range is ideally suited for the demanding computing needs of modern mobile users.
Performance options start with the eMC1 and its Celeron 2.0GHz mobile processor, capable of delivering excellent standard computing. Increased performance is available from the eMC2, which features the powerful Core 2 Duo 2.53Ghz mobile processor and is ideal for high-performance, multitasking environments. Ultimate performance is delivered by the eMC4 with its Core 2 Quad 2.53GHz Extreme mobile processor, a truly class leading computer for the most processor intensive applications. All eMC mobile data terminals are fully solid state with up to two removable solid state drives for greater performance, ease of service and reliability.
Unrivalled connectivity ensures that the eMC range delivers the most comprehensive range of input and output ports for the chosen vehicle systems, with no need for external connection hubs. Each of the eMC units shares a common, compact footprint allowing for a quick and simple upgrade path and ensuring that these are the most future-proof mobile data terminals in the world.