ePS | electronic Programmable Switches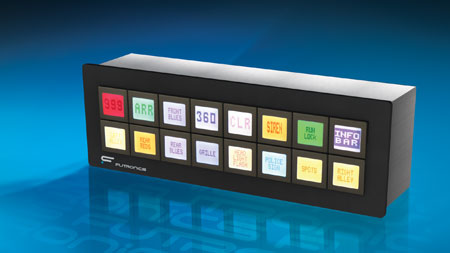 The Futronics ePS range of LCD switch panels are fully programmable multi-button controllers, designed for installation into standard vehicle DIN apertures or as hand-held devices. Ideal for use in applications that do not require the incredible power of our eTS Touch Screen, the ePS range provides economic, yet versatile emergency vehicle control solutions that do not compromise on functionality. Options up to 16 button configurations exist providing even greater system flexibility.
Each switch has an infinitely programmable LCD display, capable of showing any appropriately scaled text and dynamic graphics over a choice of backlit coloured backgrounds. The dynamic feedback from the switches ensures that operators receive unambiguous visual cues which, combined with voice prompts from the associated eVC Electronic Vehicle Controller, quickly and safely identify the status of active systems.
Uniquely for such switch panels, the ePS range includes control of Matrix / Info Sign displays, allowing operators to quickly and easily select pre-defined messages to display to other road users. This combined with control of the usual combinations of sirens, emergency lights and light bars (hardwired or multiplexed) makes the ePS range the perfect choice for many applications.
The ePS switch panels are used in conjunction with the eVC, making the total solution one of the most feature rich and adaptable on the market. The ePS is easily connected to the eVC using a multi-core LAN cable terminated in an RJ45 connector.
The ePS comes as standard with a default configuration optimised for use within emergency vehicles including 999, Arrive Scene, Front Blues, Low Power and Clear All. Where required the buttons can be programmed to activate any electronically controlled device and dynamically report almost any status as required by the customer, e.g. telescopic masts, pumps, fans, internal and external lights, temperatures, pressures and levels etc.
Each ePS panel can be daisy-chained with additional panels and multiple eVC units to create even more flexibility, especially where more extensive equipment options are to be integrated and controlled, as with Command Vehicles, Fire Appliances, Ambulances and other specialist vehicles.