eVM | electronic Video Monitor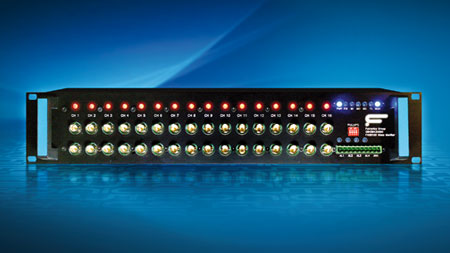 The Futronics eVM Electronic Video Monitor and SMS alarm system is designed to monitor and protect high value video cameras and associated hardware. These cameras, specifically CCTV, speed enforcement and ANPR, are often installed in locations that may not be easily accessed or monitored.
The eVM system is capable of monitoring the presence of up to 16 video signals, as well as a number of alarm inputs. An internal GPS receiver (fed from an external antenna) is provided, enabling the system to tag GPS location data and an accurate time stamp to each SMS message sent through the integrated GPRS modem.
Operational Features:
LED indicators on the front panel of the unit show the status of the unit at any given time, as well as the progress of receiving and sending SMS alarm messages.
The unitís power is supplied by an internal integrated power supply with battery charger, and backed up by an internal 12V 5.7AH gel battery. The system is enclosed in a 19 inch 2U rack mounting case, with the video loop through and alarm monitoring input connectors located on the front panel.
The GSM antenna is a small horizontally mounted whip aerial, protected by a plastic anti-tamper cover.